How Social Prescribing helps people at risk of frailty
One of the stated aims of Primary Care Networks, when the NHS introduced them in 2019, was a focus on preventative health care.
By intervening before someone becomes unwell or their health problems increase, we can keep our population healthier for longer.
This proactive approach benefits both the individual and the wider NHS by reducing the need for more significant intervention later.
This happens through a still relatively young practice called Social Prescribing.  
What is Social Prescribing?
Social Prescribing is about helping people with non-medical issues that impact their general health and wellbeing.
This video explains it nicely:
Loneliness, frailty or problems with work, housing or debt are some factors that, while not medical issues themselves, can make it harder for people to get better or stay in good health.
GP Practices can refer people to expert staff called Social Prescribing Link Workers – or SPLWs – who specialise in helping people take control of their health and wellbeing in a way that suits them.   
A focus on frailty
One of the focuses for our team of SPLWs is people with, or at risk, of frailty.
But what do we mean by frailty?
Frailty is when a person's inbuilt resilience has been gradually reduced, making it harder for them to bounce back from physical or mental health problems.
People with frailty can experience sudden and significant changes in their health caused by seemingly low-level events, such as falls or infections.
It's most closely linked with the ageing process and can be exacerbated by existing long-term health conditions.
Ten per cent of people aged 65 and above have frailty, with that figure rising to between 25% and 50% in those over 85.
Part of the work of our Primary Care Network is to identify people at risk of frailty and offer proactive support and care that can improve people's resilience and reduce the need for unplanned hospital admissions or further declines in health.  
How it works – a case study
The following case study shows how social prescribing can have a real benefit to frail patients. This is a factual account, but with some of the personal details changed.  
Meet Henry
Eighty-three-year-old Henry lives with his wife, Maria, in Gosforth. He has been diagnosed with Parkinson's and Osteoporosis and has a history of falls meaning his mobility is very limited.
Maria is Henry's primary carer, and other than occasional help from family members, the couple are relatively isolated.
After seeing a GP, Henry was referred to Clare, a Social Prescribing Link Worker, to give him and Maria the support they needed to help improve Henry's mobility through exercise.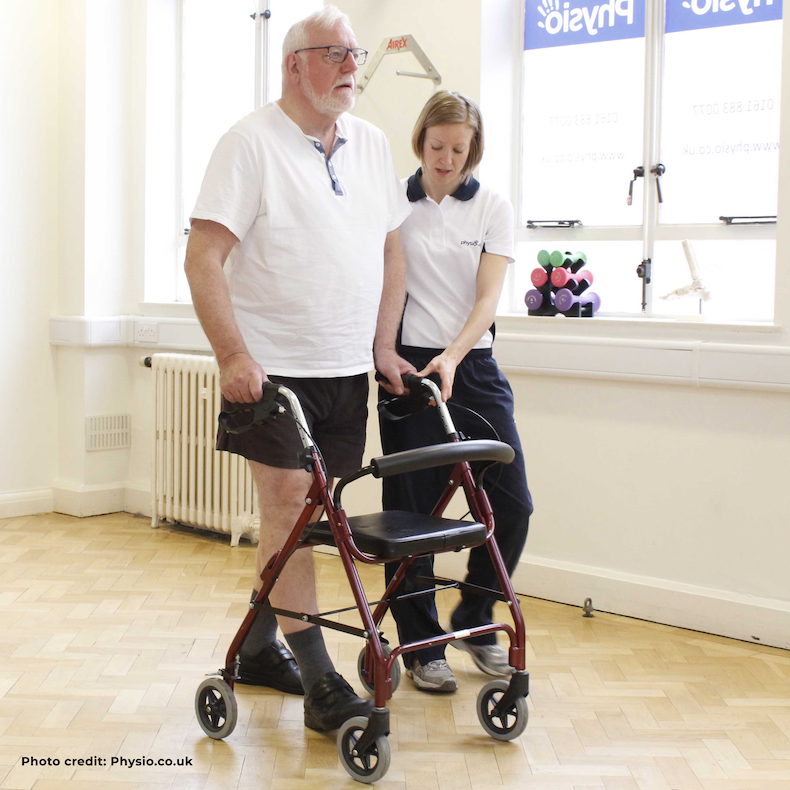 Clare contacted Henry and spoke with him and Maria. After a conversation, Clare understood Henry's problems and suggested he join a Physio-led exercise group called 'Meet and Move'.
Henry and Maria were keen, and with Clare's support, they were able to attend, taking part in the exercise session and enjoying the social aspect as well.
SPLWs have the time to understand what matters most to people. By getting to know the couple better, Clare was able to identify some other areas where more support would help – namely a better walking aid and equipment at home. Clare made a referral to the Community Response and Rehabilitation team for an initial assessment.
Meet and Move
Henry and Maria have joined in with Meet and Move weekly for more than four months. With support, Henry has been able to participate in the sessions and is making good progress.
His 'Timed Up and Go' score (a physiotherapy test timing someone to stand up from a chair, walk to a mark 3 metres away, turn round and return to a seated position) has improved by over 25%.
Following the home assessment that Clare organised, Henry was given some new equipment, including a perching stool, which has made it a lot easier for him to get around at home.
Both Henry and Maria have made new social connections through the group, benefiting their overall wellbeing.
 Referrals
Any staff member at Brunton Park Health Centre can refer a patient to our Social Prescribing Link Worker team.
If the issues described above, or in the case study of Henry and Maria, sound familiar to you or someone you know, then please speak to us about a referral.